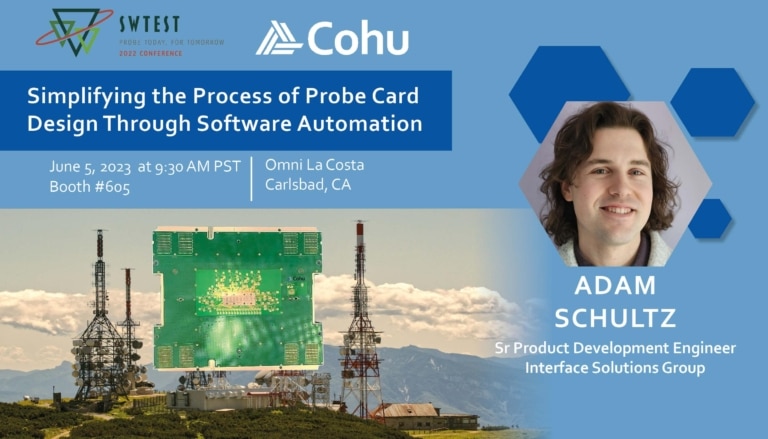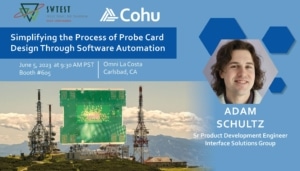 Simplifying the Process of Probe Card Design through Software Automation | Adam Schultz
In this presentation, Adam Schultz discusses an approach to automating RF simulation for probe cards which significantly reduces simulation errors, lead time, and cost. This poster was presented at SWTest 2023 and was named Winner of 2023 Best Poster.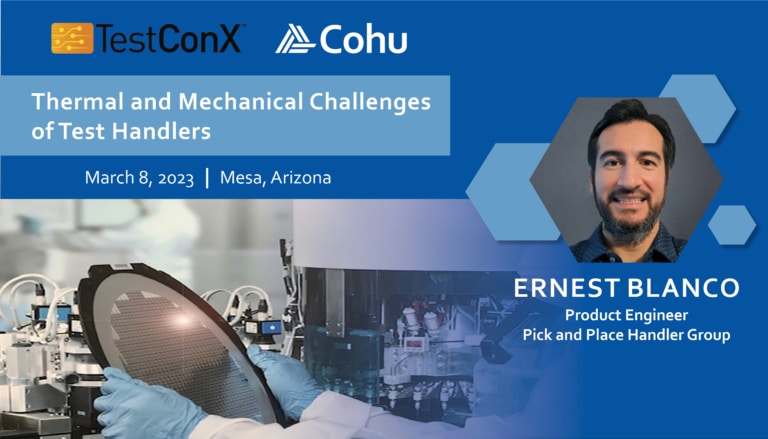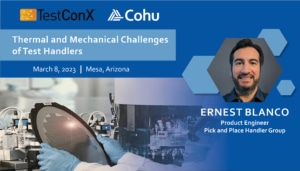 Thermal and Mechanical Challenges of Test Handlers | Ernest Blanco
In this presentation Ernest Blanco addresses several challenges relating to testing IC devices and the need for more robust pick and place processes along with the precision alignment of the device under test (DUT) to the contact pines.This paper was presented at TestConX 2023.
Testing Next Generation OLED Display Driver ICs | Chris Lemoine
In this presentation Chris Lemoine presents the trends and challenges of testing next generation OLED display driver ICs, including TDDI for mobile, home, enterprise and automotive applications. This paper was presented at Semicon Korea 2023.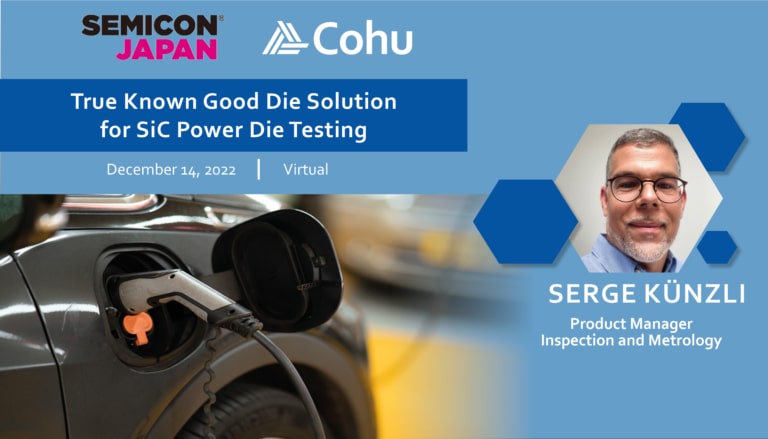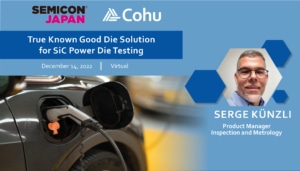 True Known Good Die Solution for SiC Power Die Testing | Serge Künzli
One of the Key elements to guarantee the quality and reliability of SiC bare dies is the capabilities to test, inspect and sort the dies after singulation and prior final assembly in power module. The NY32W Know Good Die (KGD) together with the cGator contactor and NV-Core inspection system offers an all-in-one test and inspection solution for high-power SiC bare die's providing a lower cost of test. This paper was presented at Semicon Japan 2022.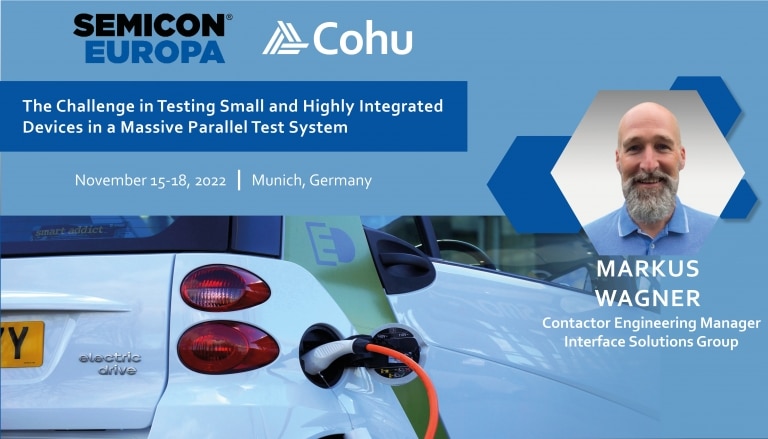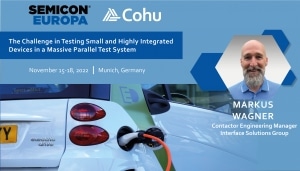 The Challenges in Testing Small and Highly Integrated Devices in a Massive Parallel Test System | Markus Wagner
The triumph of electronic components started in the 1950s with the introduction of semiconductor transistors. Since this time the content of electronics has risen significantly. Innovations in the semiconductor industry are supporting the megatrends like mobility car electrification including ADAS-systems, sensors, connectivity, and advanced security. In this presentation, Markus Wagner describes the development of a test contactor for singulated, small WLCSP devices in massive parallelism test, supporting more than 200 contact sites and how different aspects address the challenges of reliable and cost-efficient device testing. This paper was presented at Semicon Europa 2022.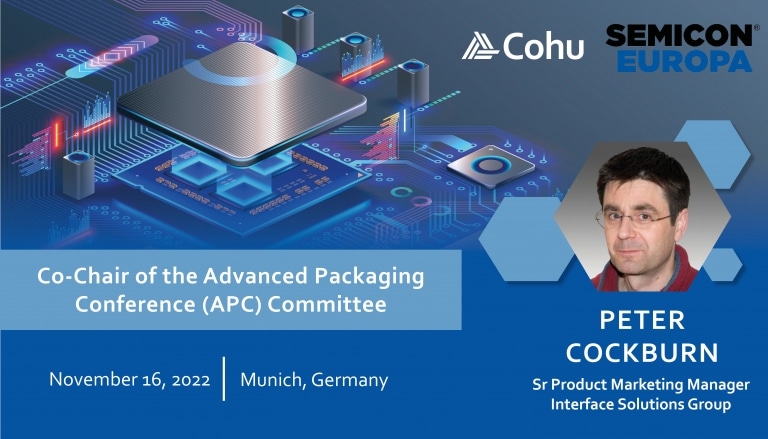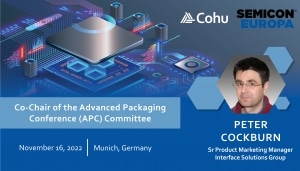 Evolution of 55 GHz Octal-site Wafer Test Probe Card for 5G mmWave devices | Peter Cockburn
One of the most demanding test applications today is high volume production wafer test of 5G mmWave devices at speed. In this presentation Peter Cockburn discusses how mmWave interfaces operating at 55 GHz require impedance matching to 35 Ohms. RF simulation of the complete probe head and PCB signal paths was used to define a new design that met expected performance goals. Implementation required a new probe-head cross section with a custom ground probe and modified PCB trace structures on surface and embedded layers. This paper was presented at SWTest 2022.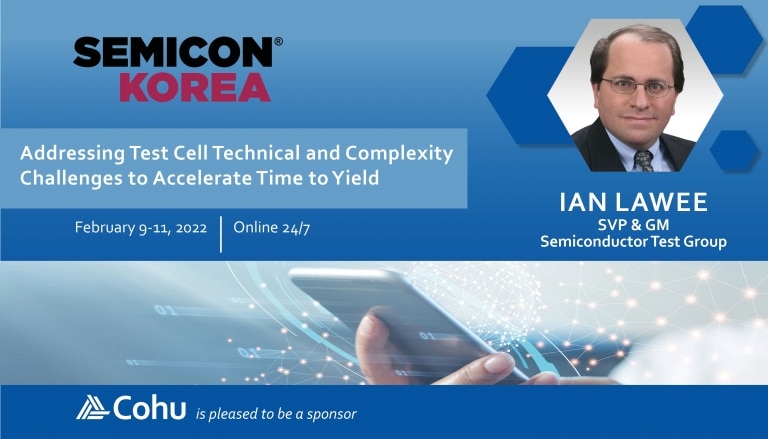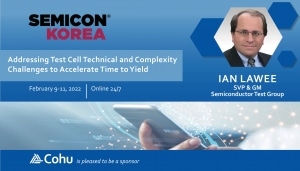 Addressing Test Cell Challenges to Accelerate Time to Yield | Ian Lawee
The time pressure to develop and aggressively ramp new products at high yield is increasing across all semiconductor segments. In this presentation, Ian Lawee will outline these time to yield challenges. He also explains how Cohu's test cell first approach creates more flexible test cell solutions to be targeted at multiple device technologies which can shorten the cycle time to first-pass success for a portfolio of devices at high throughput and yield. This paper was presented at Semicon Korea 2022.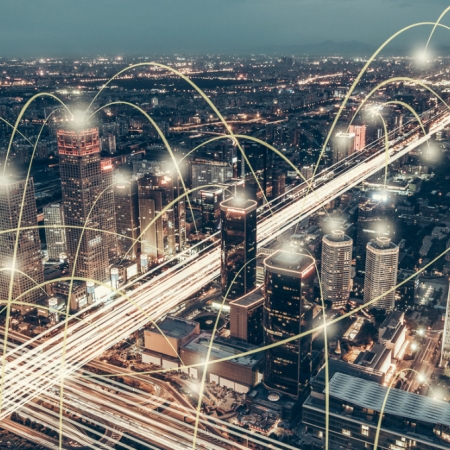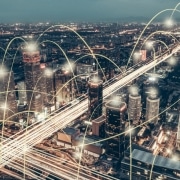 Innovations in Package Testing of 5G mmWave Applications | Aaren Lonks | Don Thompson of R&D Altanova
5G mmWave

has a huge impact on the test environment and is revolutionary from a design and implementation standpoint. Learn how the interface for testing 5G mmWave devices must be designed to allow 44 GHz+ signal transmission with minimal loss from the ATE tester to the DUT.

This paper was presented at TestConX 2021.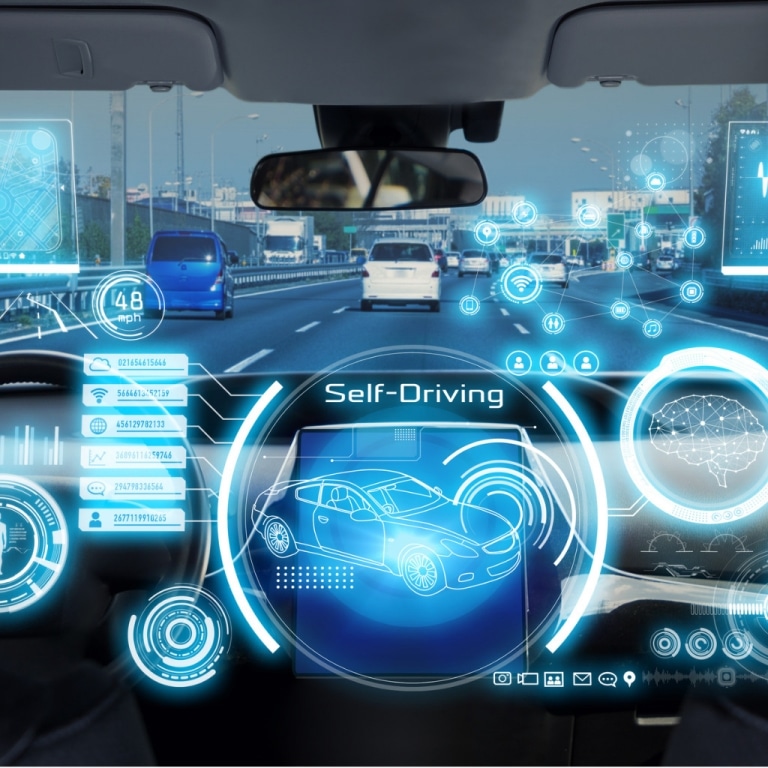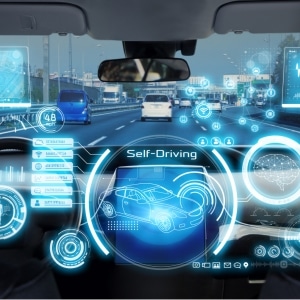 Production Wafer Probe of 77-81 GHz Automotive Radar Applications | Marty Cavegn | Jason Mroczkowski | Jory Twitchell of NXP


Second generation 80 GHz automotive devices are reaching the high-volume production test environment. Learn how an interface solution was developed to test second-generation automotive radar by terminating the 80 GHz signals inside the probe head, as well as provide a path for sourcing a DC voltage to the DUT.

This paper was presented at TestConX 2021.

cRacer Concept – Achieving 54+ GHz
Peter Cockburn | Jason Mroczkowski |
A technique to combine traditional spring probe technology with a dielectric-optimized socket architecture to reach 54+ GHz frequencies and deliver high yield with low cost-of-test.  Presented at TestConX 2021.