Cohu offers a big variety of magnetic test solutions applying magnetic field in all three dimensions. Depending on the requirements we can integrate coils with and without magnetic core, single- or Helmholtz coils, as well as permanent magnets, static and rotating.
The Cohu solutions ensure excellent magnetic field homogeneity and high magnetic field strengths up to 100 mT. Out of according magnetic simulations we can recommend the ideal combination of the available magnetic field sources.
With use of our high efficient handler portfolio we can provide the required position and angle accuracy to ensure highest test repeatability and yield. Our batch handling solutions offer optimized throughput combined with best in class precision for Test-in-Strip or InCarrier.
High variety of different magnetic field sources
Specific test integration defined by user requirements
Easy upgrade on standard test handler solutions
Highest precision and stability of stimulus and test handler
Tri-Temperature capability for specific products – automotive qualified
Optimized cost of test depending on parallelism and volume
Coils with and without magnetic core, single- or Helmholtz coils, permanent magnets, static and rotating
Leadless: 0.8 x 0.8 mm – 12 x 12 mm
SIP: up to 20 mm lead length
Hall Effect Sensor, Magnetometer, GMR, AMR, TMR, Position Sensor, Rotate Sensor
Gravity, Pick & Place, Turret, Strip & Carrier
Markets for Magnetic Sensor Test

1
Gear shift position sensor
Fuel level sensor
Electric brake system
Electric power steering
Wheel speed sensor
Magnetic angular position sensing
Pedal position sensing
Throttle control
Rotary knobs & dials
Mirror position
Door handle & door lock

1
In-door navigation
Gyoscope calibration
Electronic compass for map rotation
Navigation and augmented reality
Intelligent power saving for handheld devices
Display orientation
Position and free-fall detection

1
Absolute position sensing
Proximity sensing
Non-contacting potentiometer
Fuel level sensor

1
Current sensing
Power monitoring

1
Position switches
Industrial robotics
Height leveling, tilt and weight measurement
Fluid flow rate measurement
Power monitoring
Absolute position sensing
Accurate liquid level sensing
Factory automation position sensing

1
Home security
Gamepads, pedals, keyboards, joystick
Digital video cameras
Trackball mice
Smart home applications
Magnetic fingerprint detection
A wide variety of magnetic solutions are available across Cohu handlers
High Performance Strip Handler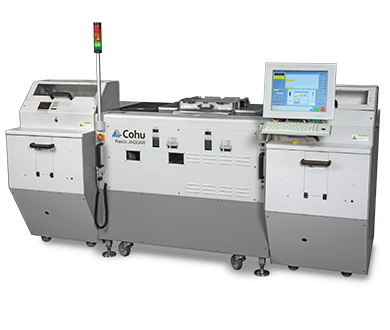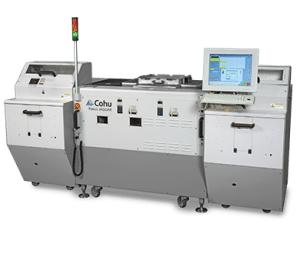 Turret platforms for semiconductor test, inspection and packaging