Cohu's well established pressure test equipment are providing high volume final test solutions for all pressure sensor markets.

For Medical MEMS Pressure sensors, we provide test solutions for breath monitoring, blood pressure monitoring and injectable disposable pressure sensors.

The automotive industry uses a wide range of pressure sensors, to monitor and control the cabin climate, TPMS for safety, exhaust pressure for a cleaner environment and brake fluid monitoring. In mobility they are used for weather apps and even GPS for accurate location positioning.

Cohu Pressure test solutions can be classified into three major categories, for barometric pressure, differential pressure and high pressure up to 16 bar, and beyond, on customer request.



Barometric, differential, as well as TPMS capability on the same base platform
Solutions for different packages and form factors across different loading media, tube, tray and strip test
Pressure ranges from 100 mbar to 50 bar with fast pressure switching times
Multisite from x4 up to x32 resulting in higher throughput
Typical First Pass Yield of up to 99.8%
Pick and Place, and Strip
Applications for MEMS Pressure
MEMS Pressure Sensors play a role in multifunctional markets

1
Tire Pressure Monitoring System (TPMS)
Cabin environment control
Brake fluid monitoring
Exhaust gas monitoring
Window & door crush prevention
Airbag activation

1
Smartphones
Tablets / iPads
VR Gaming
Wearables

1
Vehicle cabin air pressure
Augmented GPS in built up areas
HVACR monitoring

1
Minimizing fan power use
Monitoring air filters
Maintaining duct pressure levels
Automated safety systems

1
Hydraulic pressure monitoring
Blood pressure
IV pressure regulating
Ventilators
Wearables
Automated drug infusion

1
Smart coffee makers
Smart washers
More effective vacuum cleaners
Smart fridges
Purifying the air and water (differential)
A wide variety of pressure solutions are available across Cohu handlers
High Performance Strip Handler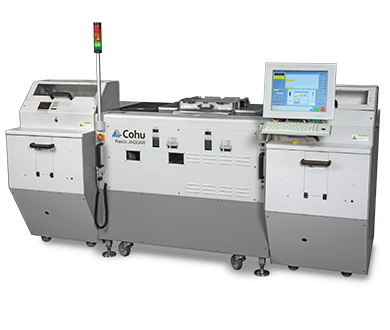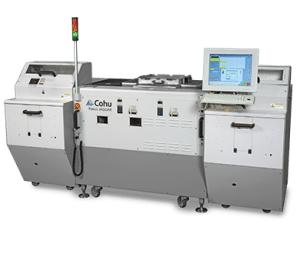 Pick and Place Handler